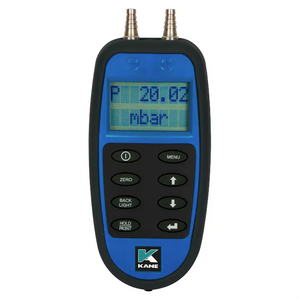 Why shop local?
Local support

Local delivery service

Calibrated in our Dublin Lab

Warranty through us

Supports Irish Jobs
KANE3500 Range Pressure Meters
€299.00 +VAT

€299.00

excluding VAT.

Ex-stock, usually ships within 5 working days.

Free shipping.
Next day delivery on all orders placed before 2pm if in stock.
---
---
High Accuracy Differential Pressure Meters with temperature compensation & test results data transfer.
Description
Measure flue draft & gas/air ratio valves on high efficiency boilers
Test Smart Meter integrity after installation
Automatic Tightness Testing on KANE3500-1 & KANE3500-2
Print test results with user details to optional printer
Wireless data transfer option
Features
5 Versions available
KANE35001 Resolution to 0.1 pascal / 0.0001 mbar
Temperature compensated for superior accuracy
Switchable between high & low resolution
Switchable between: mbar,Pa, hPa, kPa, mmHg, mmH2O, inH2O & PSI
data hold & max/min recording
10 year 'no quibble' warranty when rectified by KANE
Comes with: Pressure meter HARHOSE pressure hose, tubber sleeve & HARPOUCH soft pouch.
---
Customers also viewed