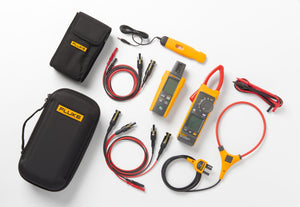 Why shop local?
Local support

Local delivery service

Calibrated in our Dublin Lab

Warranty through us

Supports Irish Jobs
Fluke 393 FC CAT III 1500 V True-rms Solar Clamp Meter, IRR1-SOL Irradiance Meter and Pomona MC4 Test Leads
€1,136.00 +VAT

€1,136.00

excluding VAT.
Next day delivery on all orders placed before 2pm if in stock.
---
---
The 393 FC CAT III 1500 V True-rms Clamp Meter with iFlex is an industrial clamp meter designed for solar photovoltaic (PV) installation technicians and maintenance professionals who work in high voltage dc environments. Safely connect the MC4 test leads to the clamp meter to validate voltage and current from individual panels or a series of panels in a PV array. The PVLEAD1 solar MC4 test leads connect measuring devices to PV power plants, for use in regular tests, measurements, and troubleshooting on solar PV panels. The inline capabilities of the PVLEAD3 solar MC4 test leads allow the system to remain online and generating power while testing without needing to pierce the line. Use the IRR1-SOL to obtain the amount of solar irradiance necessary to calculate the IV curve of the power output. Validate that the panel or string of panels are outputting the correct voltage.
Kit includes:
Fluke 393 FC CAT III 1500 V TRMS clamp meter

Test leads, CAT III 1500 V rated, right angle plugs, with safety caps • iFlex 18 inch flexible current probe

TPAK magnetic hanging strap

Premium car

rying case


3

-year warranty


FLK

-IRR1-SOL Solar Irradiance Meter


FLK80PR

-IRR External Temperature Probe with Suction Cup


C250 Carrying Case with Shoulder Strap

Pomona PVLEAD1 MC4 to 4 mm Test Lead Set

Pomona PVLEAD3 MC4 Solar Clamp Test Lead Set
---
Customers also viewed