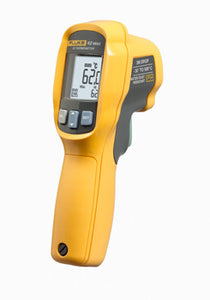 Why shop local?
Local support

Local delivery service

Calibrated in our Dublin Lab

Warranty through us

Supports Irish Jobs
Fluke 62 MAX Infrared Thermometer
€129.00 +VAT

€129.00

excluding VAT.

Free shipping on all orders over €150 exVAT.

In stock.

Order & collect in store.
Next day delivery on all orders placed before 2pm if in stock.
---
---
Takes the heat. And the dust, water and 3-meter drop. The Fluke 62 MAX and 62 MAX+ are the only mini IR thermometers you can handle without care.
Small in size. Big on toughness.
Why IR Thermometers?
Temperature is often the first indication of potential problems in electrical and mechanical applications. But how can you easily determine if an electrical panel has a hot spot, a motor is overheating or an HVAC system is inefficient? The answer is with an infrared (IR) thermometer. With handheld, non-contact IR thermometers, you can instantly measure equipment temperatures in hard-to-reach or hazardous areas. And with early detection of abnormal temperatures comes early correction of problems.
Fluke 62 MAX and Fluke 62 MAX+
Designed with your on-the-job needs in mind, the new Fluke 62 MAX and 62 MAX+ infrared thermometers are everything you'd expect from the experts in measurement tools. Small in size, extremely accurate and very easy to use. IP54 rated for dust and water resistance. Precise yet rugged enough to take a 3-meter drop. In fact, the 62 MAX and 62 MAX+ are so tough, they're the only IR thermometers around you can handle without care.
Key Benefits
Dust and water-resistant: IP54 rated for dust and water resistance.
Rugged: 3-meter (9.8-foot) drop tested.
Ergonomically designed: Completely redesigned for a more natural hand fit.
Small and lightweight; clips to your tool belt or belt loop or easily fits into your tool box.
Additional Features
Distance to spot: Precise laser technology makes for more accurate and repeatable measurements.
Dual lasers: The 62 MAX+ has dual rotating lasers to help you identify area to be measured. The measurement area is the spot between the dots.
Large, backlit display: Large screen makes data easier to read, even in dark areas.
Min/Max/Avg/Dif: Displays the minimum, maximum or average temperature, or the difference between two measurements.
Alarm: Hi and Lo alarms for rapid display of measurements outside the limits.
Power: Both the 62 MAX and 62 MAX+ are powered by a single, standard AA battery.
Fluke 62 MAX, 62 MAX+ Infrared Thermometers Datasheet
What's in the box?
Fluke 62 Single laser infrared thermometer, 10:1 spot
User manual
---
Customers also viewed