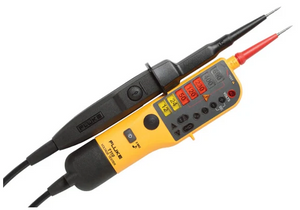 Why shop local?
Local support

Local delivery service

Calibrated in our Dublin Lab

Warranty through us

Supports Irish Jobs
Fluke T110 Voltage and Continuity Tester
€89.00 +VAT

€89.00

excluding VAT.

Ex-stock, usually ships within 5 working days.

Free shipping on all orders over €150 exVAT.
Next day delivery on all orders placed before 2pm if in stock.
---
---
Rugged, high-quality testers for fast test results the way you need them
Experienced professionals trust their job, their reputation and even their personal safety to Fluke electrical test tools. Our family of Two-Pole Voltage Testers are built with state-of-the-art measurement and safety technology, these testers offer everything you expect from Fluke, and a little bit more.
Listening—and responding—to customers
The Fluke two-pole testers are now more rugged and easier to use than ever before.
Fast test results the way you need them, with large, easy-to-use buttons, bright backlights, and clear audible and physical indicators designed for any work situation
Rugged, high-quality construction is built to last. This includes a heavy duty molded case, a thicker cord with wear indicator, sturdy battery case, and well-fitting and durable probe protector.
Enhanced ergonomic design feels good in your hand, is easy to use (even with gloves on) and quick, secure probe docking.
A complete family of testers with the features, functions, and price/performance to fit your applications and preferences.
Fluke's two-pole voltage and continuity testers are built to work the way you work. They give you the best combination of safety, ease-of-use and fast answers available anywhere.
CAT IV 600 V, Cat III 690 V safety rating Fluke's family of Two-Pole Voltage testers comply with both regulation HSE GS 38 (tip caps) and IEC EN 61243-3: 2010.
4 ways to detect ac/dc voltage A clear, instantly visible LED indicator, a bright digital display of the measurement value, an audible continuity test, and vibration to give tactile feedback (vibration indicator on T110, T130, T150).
Backlit graduated scale and backlit indicators
Vibration provides tactile feedback (T110, T130, T150).
Audio on/off for testing in quiet areas.
Low battery indicator
Detects voltage even with discharged batteries
Improved probe docking for secure storage
Phase rotation indicator for 3-phase systems
RCD functionality Two-button controls allow you to draw more current from the circuit under test and intentionally trip Residual-Current Devices (RCDs) remotely
Display Hold (T130, T150)
Built in electric torch (T110, T130, T150)
Single-phase voltage offers fast identification of live conductors
Push-on probe tips, probe tip protector and storage accessory
Probe tip protector and storage accessory Tip protector serves as an extra hand when opening UK electrical safety outlets.
Resistance testing to 1999 ohms (T150)
WearGuard™ insulation shows damage to test leads
Fluke T100 Series Electrical Tester Datasheet
What's in the box?
Fluke T110 Voltage and Continuity Tester
User manual
---
Customers also viewed